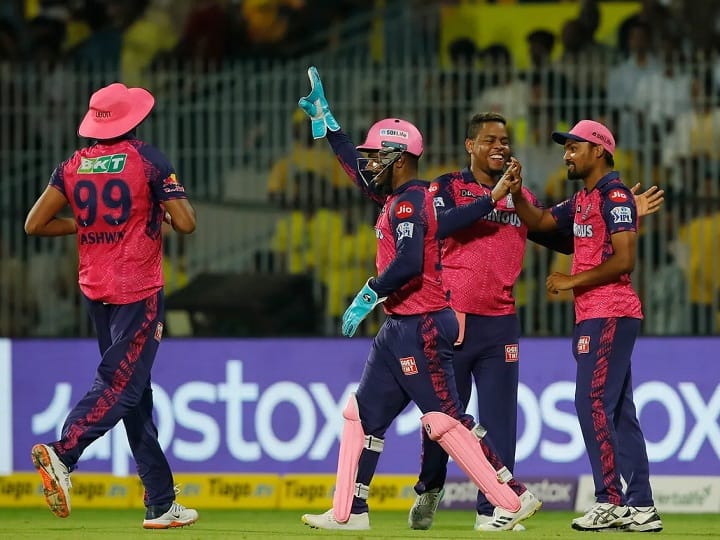 Rajasthan Royals win at Chepauk Chennai Super Kings (CSK) and Rajasthan Royals (RR) faced off in IPL on Wednesday (April 12) night. The match was played at CSK's home ground i.e. MA Chidambaram Stadium in Chepauk, Chennai. This ground is considered as CSK's stronghold where it is always difficult for the visiting teams to beat this team. But Rajasthan Royals demolished this Chennai fort in last night's match.
Rajasthan Royals won against CSK by 3 runs in a thrilling match last night. This win is very special for Rajasthan. Because this is Rajasthan's second win over CSK in Chepauk. He got his first win 15 years ago in IPL 2008. Rajasthan then defeated Chennai by 10 runs in the match on May 24. After this, Rajasthan could not beat Chennai even once in Chepauk in the last 15 years.
Before last night's match, Chennai and Rajasthan teams have faced each other 7 times in Chepauk. While they won against Rajasthan in the first match, only Chennai team won in the last 6 matches. Now after 15 years Rajasthan beat Chennai on this ground.
Rajasthan also achieved this huge record in Chepauk
Rajasthan beat CSK at home and registered another huge record. They also became the second team to beat CSK in Chepauk in the last 10 years. Only Mumbai Indians have managed to beat CSK in Chepauk in the last 10 years. In the last 10 seasons, Mumbai and other teams have failed to win a single match against CSK here.
An exciting match
Batting first in this match, Rajasthan Royals scored 175 runs for the loss of 8 wickets. In response, at one point CSK needed 54 runs off 18 balls to win and its 6 wickets fell. Dhoni and Jadeja played fast innings from here. In the last ball it was stipulated that 5 runs were required for Chennai's victory, but here Dhoni could not hit a six and Chennai lost by 3 runs.
Also Read…
Dhoni's fast batting continues, find out how Mahi is preparing himself for IPL 2023